About me!

My name is Åsa Wassberg and I run Wassberg Studios.
I am based in Adelaide, South Australia, but was born in Sweden and lived there until I migrated to Australia about 15 years ago.
I have always made things, anything, out of fabrics - quilts, sculptures, cushions, bed linen, aprons etc. I am also a screen printer so I have always added that extra dimension to my work. I have always run, parallel to each other, lines of marketable, more useful items, as well as one-off objects.
You can have a look at my previous work in the ARCHIVE.

I have a really good time making things and I hope that feeling is reflected in my work. I especially like the coinpurses as I can play with each individual one until I'm satisfied. But preparing the new patterns for the wheatbags is also an interesting process I am engrossed in at present.

I have, for a long time, been working closely with an organisation called Port Business Partnership – Classic Linen Sewing Services. They are located in Port Adelaide and do most of my basic sewing. It is essentially a sheltered workshop for people recovering from mental illness. I do all the designing, printing, matching, preparation and finishing touches and they do the sewing. It works really well for me and the people are fantastic.

I sell my things mostly at markets but also attend Royal Adelaide Show and other bigger events in South Australia, as well as interstate. See here for detailed list of locations and dates.

If you have a query – please send me an email.
Or ring me on 0407 626 755, South Australian daytime only please,
GMT+9.5
.



| | |
| --- | --- |
| Åsa Wassberg | asa@wassbergstudios.com |
| Sales | sales@wassbergstudios.com |
| Webmite (Web Master) | gnome@wassbergstudios.com |


Check out cool links to my friends:
House on the hill
Nutmeg hats
Almond hill B&B
Dinah Designer
Cecilia Gunnarson


Why they look so good and spunky?
Because I design and screen print them!
And because they are 100% made in Australia.

Å

sa making bedmites.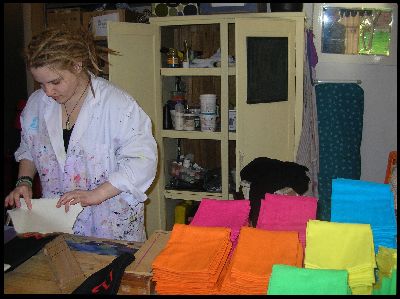 Emz doing her suave thing..

.